Kim
Kim is one of those horse crazy girls who was born to ride. Her first experience working with mules was when she came to the ranch in Idaho during summer break 2009. After spending a month riding every free moment, she was hooked.
She returned the following summer to work for Laurie and learn more about the long-eared version of a horse. Kim has spent seven summers honing her skills as Laurie's assistant/apprentice (around earning degrees in International Business, Spanish, and German at Boise State University).
Her greatest teacher has been her personal mule Bandit, a project mule who taught her that patience, persistence and trust are key ingredients in truing a mule to be one's willing partner.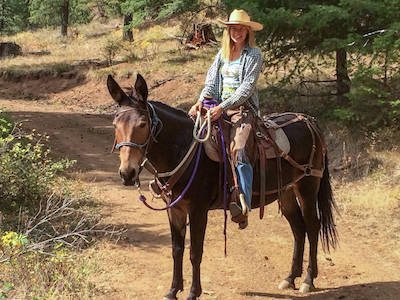 Kim has spent countless miles on her trusty 31-year-old stead, Charlie, ponying mules in training to expose them to various terrains and to help them gain confidence in the backcountry.